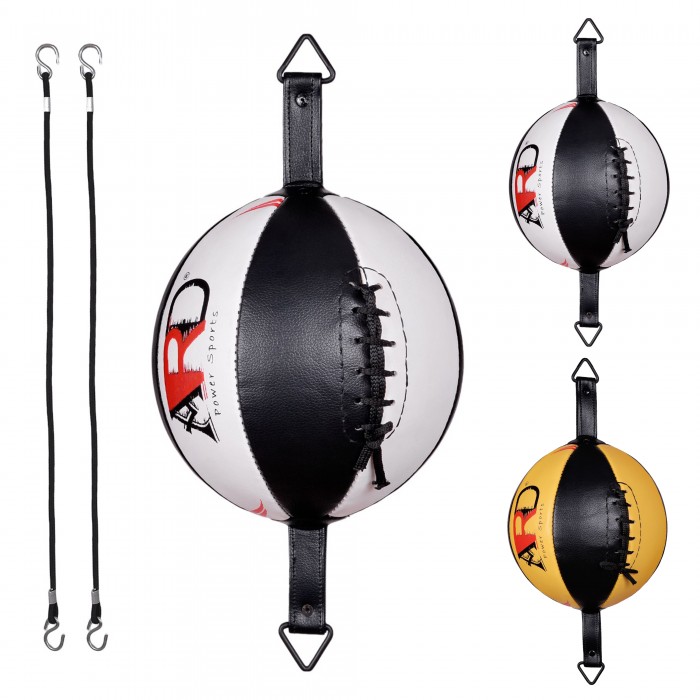 ARD high quality double end ball made from Artificial leather which is lined inside with 2 layers to give it extra strength. The ball comes with rubber bungee cord adjustable up to 48 inches in height, Includes fixings, which are attached to the floor and ceiling and allows the ball to move around in all directions developing excellent hand to eye coordination. The Tough strap makes adjusting double end bags quick, convenient and easy. Allows each user to adjust bag to their ideal height with ease. The ball is hand stitched to the highest standards and has a rubber bladder inside which is inflated using a football pump. The product is made to the highest specification and is quality tested and guaranteed. This has made it the choice of professionals.
Key Features:
Designed with high-quality Artificial Leather material, it is practical and durable

The inflatable boxing speed ball is very flexible

The ball will enhance your endurance, speed and accuracy

The boxing speed ball can strengthen your body

It is a great workout tool for home or gym use

Suitable for boxing, free combat, kickboxing or other punching training
Buyers are requested to read Company Terms & Conditions before buying product to avoid any miscommunication.
When you are purchasing a product, it means you are also agreeing to Terms & Conditions of company.
Please include the following Information at the time of making your payment via bank or internet banking
- Your eBay ID
We accept PayPal Only
We contact our buyer if any information requires, via email within 24 hours after cart checkout.
Successful Buyers must complete the sale transaction within 7 working days from the date of receipt email notification or invoice.
On Completion of the sale transaction buyer shall get one confirmation email from us, which should be kept for any further communication.
Item descriptions are provided in best of our knowledge.
Sale which is once done is taken as final.
Refunds are subject for consideration if product is not at fault.
| | |
| --- | --- |
| | Shipping and Returns ARD CHAMPS™ |
We value our customer satisfaction, so we ship our products within 1 to 2 days after the payment has been done- however we ask customer to allow us to ship products within 7 days in some exceptions.

Most of the consignments are delivered within 2 to 5 working days. In some cases delivery may take 10 days.
In case undelivered items we request our valuable customer to contact us before leaving any negative or neutral feedback as positive feedback is very important for us.

We also offer combine shipping, for combine shipping inquiry we request our valued customer to contact us through eBay message service.

We request our customer to contact us within 14 days to return products in case of damage or faulty product.
As we are always happy to solve the problems to avoid the complications.
ARD CHAMPS™ is a company which owns and operates composite facilities for manufacturing and exporting of various Martial Arts/Sporting Wears commodities particularly Martial Arts Uniforms & Supplies. The company fully realizes the importance of maintaining the quality of its products and for the same reason it is maintaining a quality control system. Due to these commitments ARD CHAMPS, has established a prestigious position in the international market.
For any inquiries regarding purchase or products please feel free to contact us through eBay message service and we will respond to you as soon as possible.

All of our products listed within the eBay store of ARD. To search any particular product search with the name of product starting with ARD.
24/7 Contact Number HP# +1-407-346-1767
ARD® Artificial Leather Boxing Speed Bag MMA Double End Dodge Ball Punching